The 2015 Grandparent Portrait Show is the fourth in a series of bi-annual exhibitions of secondary school student artwork to communities of the greater Santa Barbara area served by the Student Art Fund. The works pay tribute to the artists' grandparents or other significant elders in a variety of media, including drawings, paintings, sculptures, photographs, and assemblage.
This year's show is juried by retired Westmont Professor of Art, Susan Savage.
>Read more about Susan Savage
"Relationships between grandparents and their grandchildren are unique, significant and often fleeting. The Grandparent Portrait show…aims to strengthen and preserve those bonds."
— Commentator Diane Bock, the NPR show, California Report (KQED)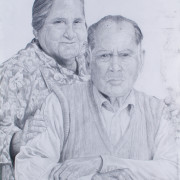 The 2015
Exhibition Gallery
Working under the guidance of their art teachers, young artists created over 400 portraits in media ranging from paintings in watercolors or acrylics, drawings in ink, pencil, or charcoal, photography, collages, mixed media, and clay sculptures for consideration. From these, 153 finalists were selected by the judges to be a part of the 2015 exhibition at the Faulkner Gallery, from April 2 – 29, 2015.  You can view the pieces in the 2015 exhibition here.
The 2015
Award Winners
Awards of Merit for eleven outstanding entries will be announced at the Family Reception on Friday, April 10. These awards are designated through a selection process that includes SAF Committee members—many are retired art teachers—and a professional juror.  The awards are made possible by: American Riviera Bank, the DeSha Family, Thomas and Willa Mann, Hilary Peattie, the Santa Barbara Art Association, Channel City Camera Club, Gene Hill, Gwen Taylor Dawson, Village Properties, The Aquiesse Company, and Worldview Pictures. You can read interviews of the award-winning student artists, and view their artwork here.
Thank You to Our Sponsors
The Grandparent Portrait Show is funded in part by the American Riviera Bank,
the Santa Barbara Foundation, Village Properties, the Community Arts Grant Program
using funds provided by the City of Santa Barbara in partnership with the Santa Barbara County Arts Commission,
and the Santa Barbara Art Association Student Art Fund.  
Our appreciation goes to the following award sponsors:
American Riviera Bank  •  DeSha Family  •  Thomas and Willa Mann  •  Santa Barbara Art Association
Hilary Peattie  •  Channel City Camera Club  •  Gwen Taylor Dawson  •  The Aquiesse Company
Worldview Pictures •  Village Properties •  Gene Hill