Special Project Grants
Special Project Grants have been established to assist teachers, students and art classes with unique projects of merit, projects that would not be attempted without additional support. The grants are available to public secondary school art teachers in the Tri-Cities area of Santa Barbara, Carpinteria, and Goleta. All accepted projects must fit the mission statement of the Student Art Fund to "provide support, opportunity and encouragement to help young artists discover their potential." Each grant ranges up to $2,000.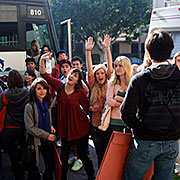 These special projects have included materials for exploring the art of different cultures, such as Japanese Shibori textiles or Tibetan wishing flags. Other projects have funded guest instructors or professional development for art teachers. For example,the Student Art Fund paid for substitute teachers to cover classes so teachers could attend the Debut 2012 Runway Show and Tour at the Fashion Institute of Design and Merchandising, helping develop a unit on fashion photography for high school classes. Projects may also include funding for field trips. For example the Student Art Fund furnished a bus for ceramics students enabling them to visit Santa Barbara public art by Alfaro Siqueros, Herbert Bayer Marge Dunlap, Bud Bottoms and others.
>Explore a complete listing of Special Project Grants awarded by the Student Art Fund.
How to Apply
Applications are accepted year round and may be submitted via email. Please download our Grant Application Guide and Sample Grant. Grants are reviewed at monthly meetings of the Student Art Fund Committee and applicants receive notification soon thereafter.
Save
Supplemental Art Supply Grants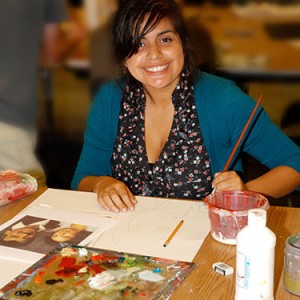 Every year, quite a range of supplies are needed by Ceramics, Drawing, Sculpture, Painting, Design, Photography, Jewelry, Video/T.V. Production, Art History, Digital Art, and various classes combining these media, as well as by individual art students. Helping art classes and art students by supplementing art supplies was our earliest goal and continues to be our top priority. We purchase requested supplies and give them directly to classrooms.
Each year we supplement art supplies in all public Junior High and High School art classes throughout the Tri-Cities area. Since 2007 the Student Art Fund has provided art materials to more than 600 classes of art.
Grants of Donated Art Supplies
Thanks to our volunteers, working relationships with art teachers and local artists, and knowledge of the particular needs of art classes, we also receive and distribute donated supplies. We have delivered donations of airbrushes, paint and related supplies, paper and related supplies, frames and mat board, easels, sketchbooks, art books, mat cutters, and miscellaneous tools.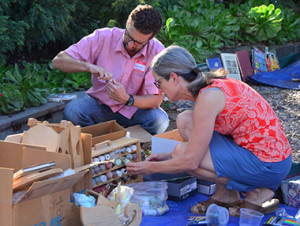 Do you have something a young art student might put to good use? If so, please contact us about a donation.