Special Projects Grants
A listing of Special Projects Grants made by the Student Art Fund from 2007 through 2016 is below. For information on how to apply for a Special Projects Grant, please visit our grants page.
2016-2017 School Year Grants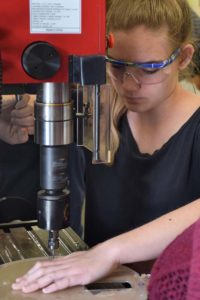 Supplies: Funded the purchase of printing supplies.
Funded a special purchase of 600 handmade papers to create books with Japanese style binding.
Provided funding for a skateboard and card drawing and printing project.
Sculpture: Funded the purchase of a mill for creating sculpture.
Ceramics:  Provided clay to create over 150 bowls for the Empty Bowls Project that benefits the Food Bank.
Publication:  Provided funding to publish Local Color, a student-produced book of student-created art and poetry.
Transportation: Provided transportation for students to the Broad Museum and MOCA in Los Angeles.
2015-2016 School Year Grants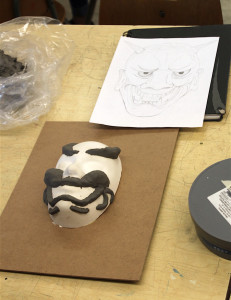 Supplies: Provided mat boards for the presentation of student art in the Channel Keepers Art Show.
Furnished classroom art materials for a teaching unit about Egypt.
Purchased frames and mat boards for use when entering student photographs in area art exhibits.
Funded supplies for a special effects mask project.
Purchased a power jigsaw.
Purchased clay, glazes and tools for the making of over 150 bowls to be given to the Santa Barbara Food Bank for their annual fundraiser Empty Bowls.
Photography: Supplied three digital cameras and equipment for a photography class.
Transportation: Provided bus transportation to the Getty for high school students.
Provided bus transportation to the Bay Area to view exhibits featuring the combination of art and technology in preparation for the Mechatronics Installation Project.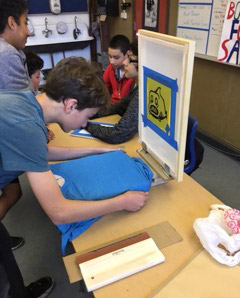 Printmaking: Purchased a printing press for junior high school classroom.
Supplied silkscreen printing materials for a junior high school.
Painting: Purchased studio easels.
Publication: Provided funding to publish, Local Color, a nationally acclaimed art and literature magazine.
2014-2015 School Year Grants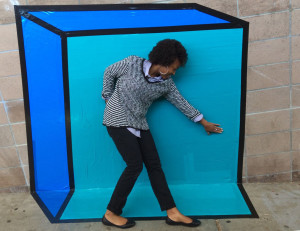 Supplies: Provided supplies for a high school drawing class to create linear perspective wall art installations.
Inkjet Printer: Furnished large bed printer to a junior high for use with a variety of art programs allowing digitally inclined students to further their knowledge of digital art and allowing those with less experience to be introduced to the possibilities.
Transportation: Provided bus transportation for ceramics classes to go to the Getty Villa in Malibu to research Greek pottery styles and ancient Greek daily life. Provided bus transportation for International Baccalaureate (art) classes to visit the Los Angeles County Museum of Art and Bergamot Station as part of an art criticism activity.
Safety materials: Provided pairs of replacement Kevlar gloves and kiln shelves for ceramics classes.
Painting: Donated enough acrylic paint, canvas, brushes and gesso for an Advancement Placement Studio Art class curriculum.
Printmaking: Supplied printing inks, linoleum, brayers and safety bench hooks to make possible class block-printing units.
2013-2014 School Year Grants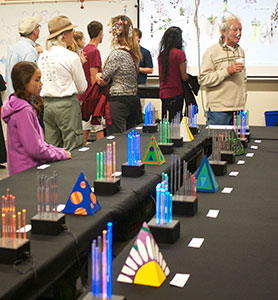 Tuition: Sponsored professional development for a teacher and subsequent development of craft project unit.
Zentangle: Provided supplies for this meditative drawing and composition activity for a junior high.
Marbling:  Sponsored artist JoNeal Boic for a high school marbling workshop.
Art Show/Maker Fair: Sponsored an event at a high school to showcase students' art and ingenuity and interactive stations where the parents and community could participate in hands on art activities.
Basic Art Supplies: Furnished art supplies to establish art activities for students of an alternative high school.
Transportation: Provided buses for three sculpture classes and ten chaperons to visit the Los Angeles County Museum of Art to see contemporary sculpture shows.
Provided buses for students to visit the Astronomy Show at the Santa Barbara Museum of Art. Prior to the visit, the students heard Mr. John Hoot from the NASA Jet Propulsion Lab.

Supplies: Furnished art supplies for three junior high students to study in after school art workshops.
Frames: Purchased frames for gallery prints at Santa Barbara Junior High School.
Publication Expenses: Provided funding for the publication of, "Local Colors".
Scanner: Provided a larger bed scanner so students in a junior high can scan their drawings then experiment with various color plans.
Save
Save
Save
2012-2013 School Year Grants
Photographic Technique: Paid for instructional tutorials on DVD developed by Brooks Photography professors for art classes in high schools.
Jewelry Technique: Purchased "precious metal clay", and accompanying tools, to give students at one high school the opportunity to work in silver or bronze.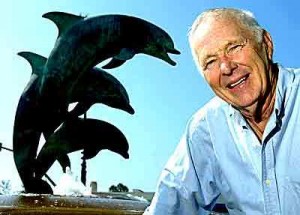 Public Sculpture Field Trip: Furnished a bus for ceramics students enabling them to visit Santa Barbara public art such as that by Alfaro Siqueiros, Herbert Bayer, Marge Dunlap, Bud Bottoms and others. Mr. Bottoms spoke to the group.
Scarves and Supplies: Purchased silk scarves and fabric dyes so junior high students could study Japanese textiles, especially Shibori dying technique, and create great presents.
Silk and Supplies: Furnished materials for a painting class to do Tibetan-styled wishing flags.
Paint and Graphic Supplies: Furnished the supplies, in cooperation with Powell Skateboard Company, for a design class to finish 36 skateboard decks with their individual, original designs.
Landscape Drawing: Paid tuition for a drawing instructor to attend landscape drawing and painting class and develop ideas for use with students.
Sculpture Field Trip: Paid for busses for three Sculpture classes to visit the Museum of Modern Art and the Geffen Gallery in Los Angeles and substitute teachers for the teachers chaperoning the trip.
Leather and Jewelry: Sponsored speaker Eduardo Lara, third generation leather craftsman, jewelry and leather for a bracelet project.
Tuition: Sponsored professional development for a teacher and subsequent creation of a high school landscape painting unit.
Framing and Matting Supplies: For presentation of artwork furnished to a high school
Kiln: Replacement of a worn-out kiln with a 50 – 50 matching grant to Carpinteria High School.
2011-2012 School Year Grants
Leather and Jewelry: Furnished equipment making possible the addition of leather and jewelry curricula at one junior high school.
Mural Project: Furnished canvas and supplies for a large, indoor mural at a high school.
Clothing Design: Purchased dress forms to facilitate student clothing design projects.
Fashion Photography: Paid for substitute teachers to cover classes so teachers could attend the Debut 2012 Runway show and tour at the Fashion Institute of Design and Merchandising, helping develop a unit on fashion photography for high school classes.
Photography Show Sponsorship: Sponsored "A Day in the Life of Carpinteria High School" in downtown Carpinteria.
2010-2011 School Year Grants
Photography Field Trip: Underwrote the bus transportation for a group of junior high students to travel to Hearst Castle to study and photograph the historic property
Design Competition Participation Support: Funded the substitute teachers to cover classes in a high school so that art teachers could chaperon their art students, who won the Western Regional of the Vans National Design Competition, to the finals in New York City.
Garden Project: Purchased plants that were installed outside art classrooms by the Permaculture Club. These will form a drawing and painting location as well as add beauty to the high school campus.
2009-2010 School Year Grants
Classroom Art Reference Library: Donated more than a hundred cloth-bound art books to form the basis of a classroom art reference library for students, allowing them to study artists from a variety of cultures, countries and time periods.
Shakespearean Puppet Theater: Sponsored construction of a puppet theater for performing Shakespearean plays, bringing together art and literature students.
World Wide Cross-Cultural Photography Project: Helped with an after school project in which small cameras were sent to children in Ghana, Bhutan, Costa Rica, Thailand, Israel, Ethiopia, Rwanda and other countries. The project is designed to see the world through the eyes of other cultures, culminating in an exhibition of the work.
Grants Awarded in Multiple Years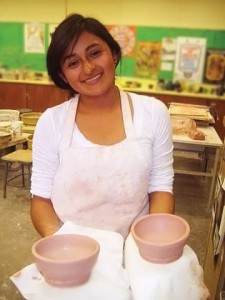 Empty Bowls Project – Ceramics  (2011 – 2017): Contributed the materials for ceramics students to throw 150 bowls that were subsequently donated to the Empty Bowls Project. These bowls were then sold, with proceeds benefiting the Food Bank of Santa Barbara.  Students learned about philanthropy and the power they have to affect positive change in their community and around the world.
Publication – Art and Literary Magazine (2011 – 2013): Underwrote the national award winning student art and literature magazine, Local Color. In this after school activity, students solicit entries, choose the work for publication, edit, design and layout the publication for printing.
Portfolio Day Participation (2007 – 2010): Sponsored more than a hundred local advanced art students and their art teachers over the years to attend National Portfolio Day.  At this unique one-day event students have their portfolios evaluated by college-level art teachers.  The students are given one-on-one evaluations of their portfolio, suggestions for direction and improvement, meet with post high school art school admissions counselors, and have an opportunity to view the artwork of their Southern Californian peers.
Animation Project (2009, 2010): In cooperation with other grant sources, helped fund equipment in the Stop Motion Animation project for students at a local high school.
Save
Save